Jun 30, 2020 09:59 PM Central
Jenna Herrig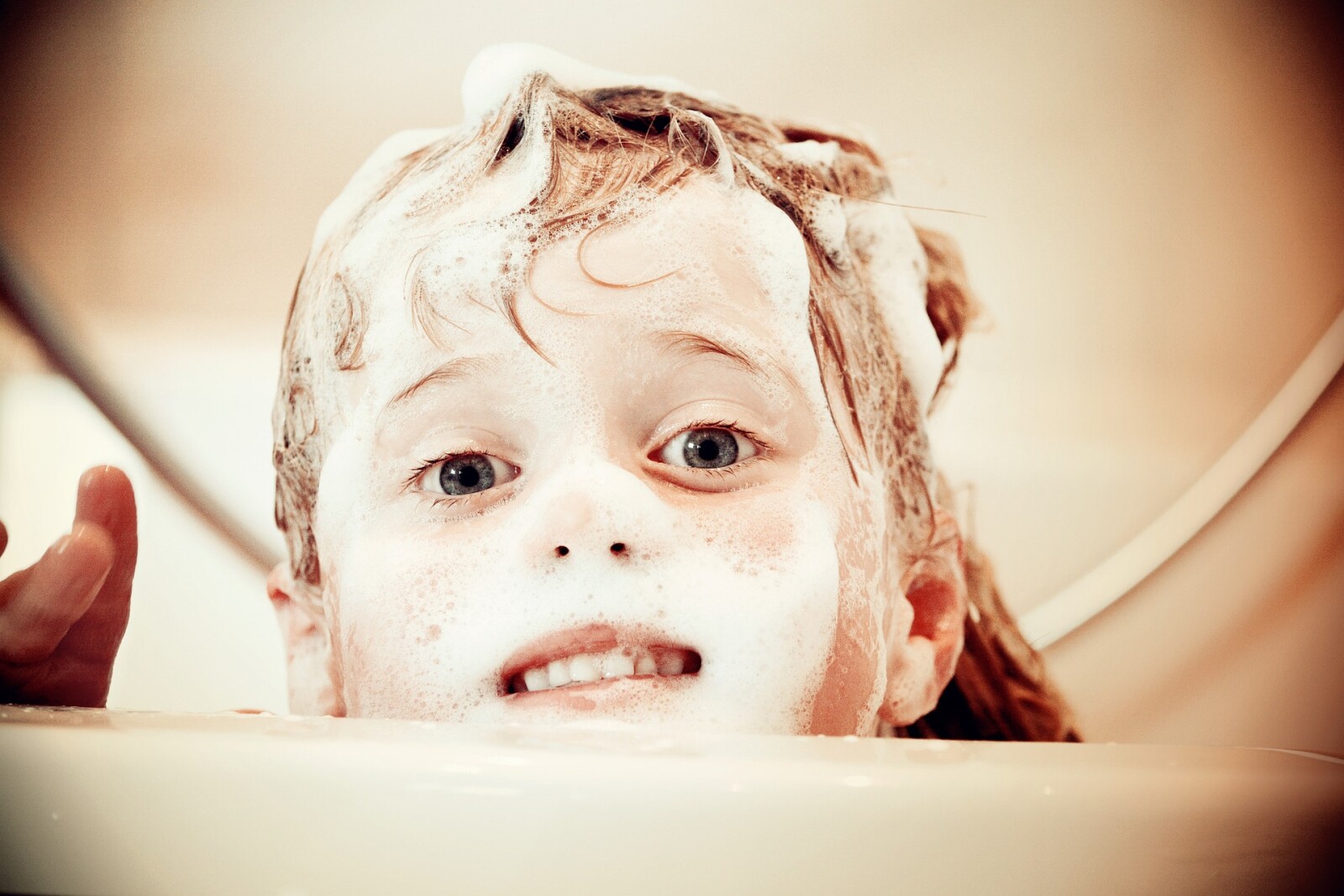 We've chatted about what to do if you have a Normal or Oily Skin-Type; let's talk about what to do if you have a Dry Skin-Type. Not sure if you are more prone to having dry skin? Dry skin can be scaly, lacking natural oils, and sensitive - especially in harsh weather. So, what should your goal be to care for your dry skin? To cool and hydrate.


The Dry Beauty Serum is something we haven't mentioned yet in our Skincare series, but this is a perfect addition for those with dry skin. The oils in this blend are known for their ability to restore the skin's natural moisture balance.

For your morning routine I highly recommend a DIY Cleanser that does not foam or lather. If you are up for a DIY recipe I recommend this one and it's very simple to make.


DIY Cleanser (no foam, no lather)
1 fresh plum
3 Tbs water
1 Tbs apple cider vinegar
1 Tbs honey
2-3 drops Lavender
Chop the plum into small pieces and bring to a boil with all ingredients except Lavender. Simmer for 10 minutes. Blend in a food processor and leave to cool. Add 2-3 drops of Lavender oil. Apply to face and gently massage in. Rinse with water. Store in the fridge for up to 2 weeks.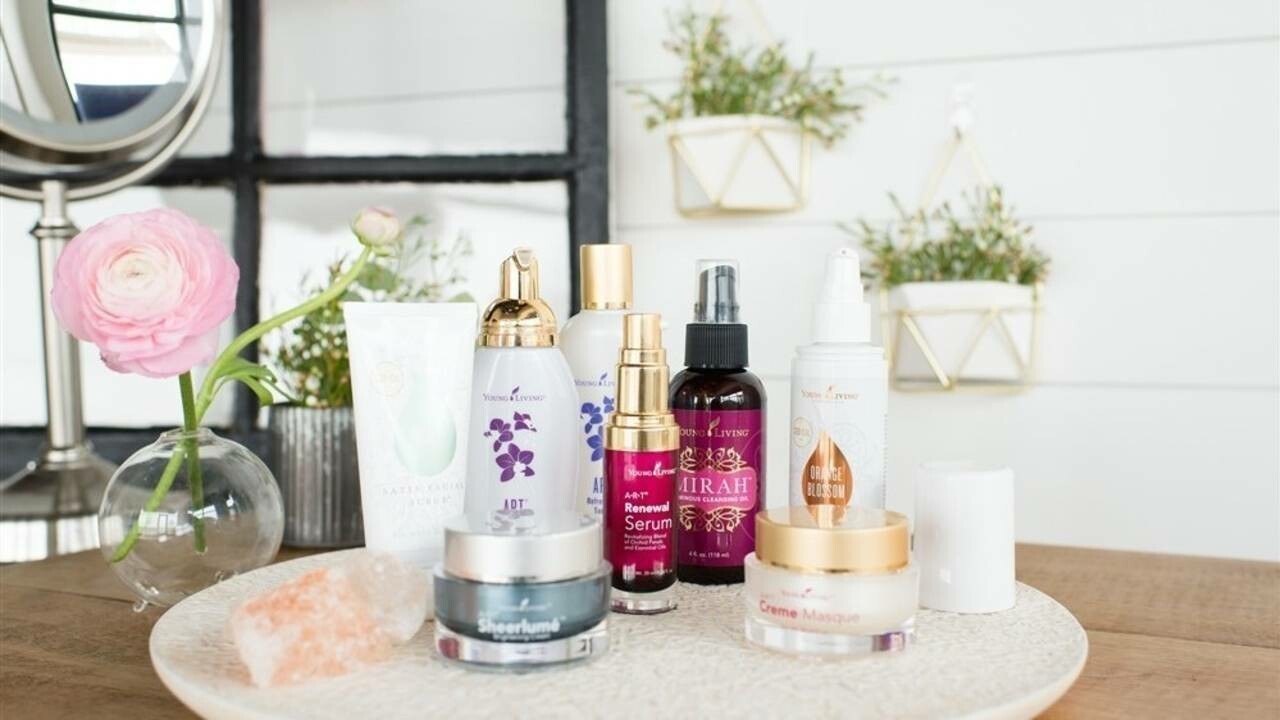 Include with your routine the ART Intensive Moisturizer to provide lasting hydration and the ART Beauty Mask as needed.
Daily Routine
Morning Routine:
DIY Cleanser (no foam, no lather) - See above recipe.
ART Toner - Gently removes impurities without drying out your skin.
Renewal Serum - Deeply nourishes, hydrates, and helps maintain a youthful appearance.
ART Intensive Moisturizer - Recaptures the qualities of younger looking skin by reducing the appearance of fine lines and wrinkles and by helping skin fee smoother and more pliable.
Evening Routine:
ART Gentle Cleanser - Promotes glowing skin by washing away impurities.
ART Toner - Same as above.
Renewal Serum - Same as above.
Wolfberry Eye Cream - Soothes tired eyes and minimizes the appearance of fine lines.
Moisturizer - Same as above.
Two times a week:
Satin Mint Facial Scrub - Gently lifts and removes dry, dead skin cells to reveal bright and even skin-tone.
ART Beauty Mask - Use as needed. Leaves skin feeling radiant and soft.
Helpful Essential Oils
Geranium - Promotes radiant-looking skin.
Roman Chamomile - Perfect for all skin types.
Royal Hawaiian Sandalwood - Helps reduce the appearance of blemishes.
Frankincense - Promotes radiant-looking skin and helps smooth the appearance of fine lines.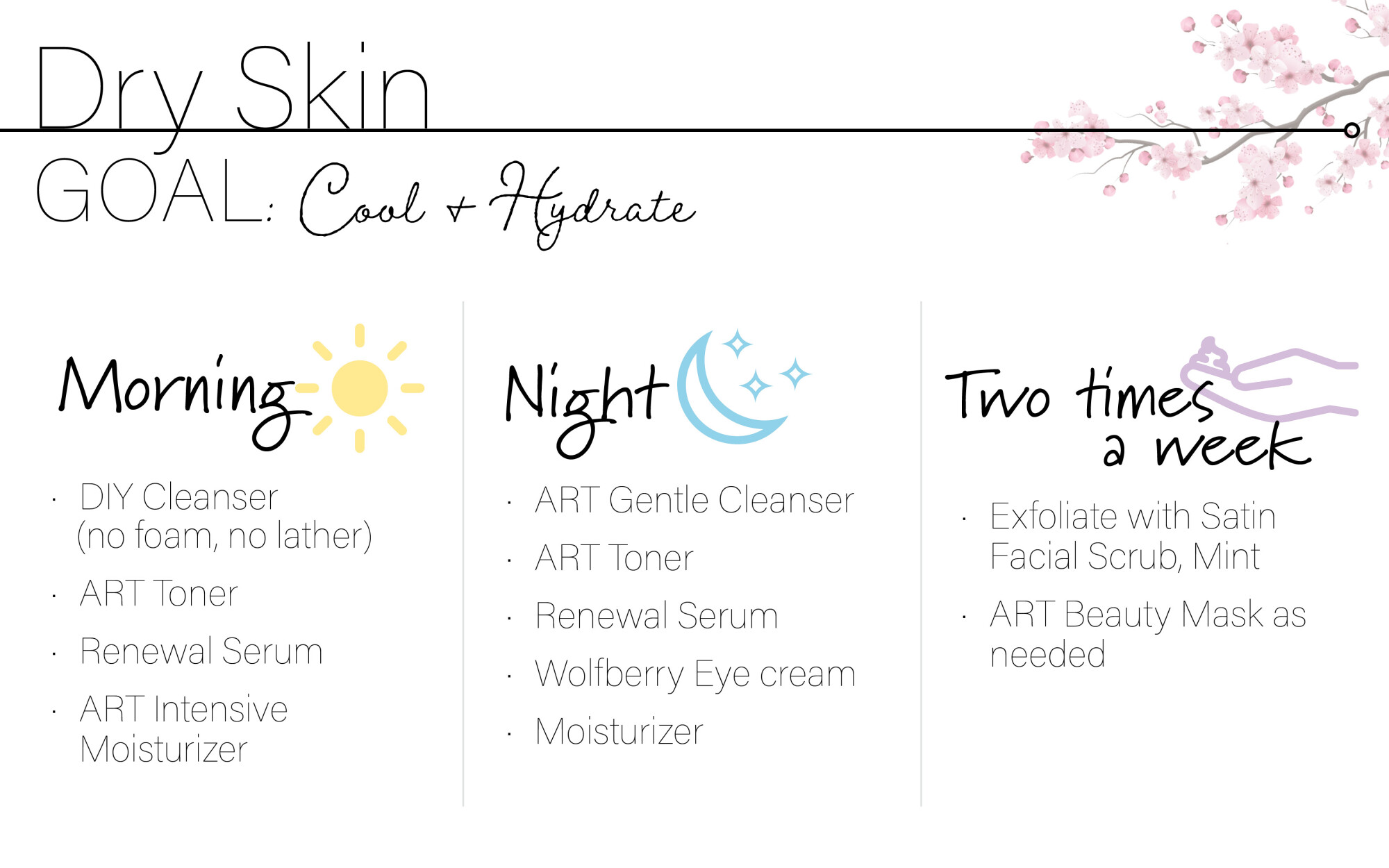 If you missed Part 1 of our series, you can find that HERE. Tips for Normal Skin-Types can be found HERE, and Oily Skin-Types HERE. Have questions about what skin type you are? Message me HERE or Comment on this Blog Post and I'll reach out with a couple quick tips!

If you enjoy all things Skincare and Makeup, feel free to check out my FREE Guide on 5 Ways to Natural Care for Your Skin. Enjoy!