Jun 26, 2020 04:48 PM Central
Jenna Herrig
Having oily skin can be such a struggle to care for. Those with oily skin-types typically have larger pores, easily develop blemishes, but they can maintain their youthful appearance well. In Part 3 of our Skincare Series I am going to give you suggestions that I think work the best for those with an oily skin-type.
A big question I get asked? What should my goal be if I tend to have more of any oily skin-type? To clean and close pores.
I highly recommend the Orange Blossom skincare line. It is perfect for oily skin! It is mild, making it very gentle for sensitive skin. You have the option to use the Charcoal Bar soap in addition to or alternating with the Orange Blossom Facial Wash. I am a big fan of the Charcoal Bar. It leaves my skin feeling so soft. You'll want to then follow with the vegan-friendly Orange Blossom Moisturizer or the ART Light Moisturizer to help skin feel extra smooth.




Here is a daily routine for oily skin.
Morning Routine:
Orange Blossom Face Wash - Reduces surface oils and removes dirt and makeup without making your skin feel overly dry or tight.
ART Toner - Removes impurities without drying the skin and helps balance your skins natural pH.
Renewal Serum - Deeply nourishes, hydrates, and helps maintain a youthful appearance.
Orange Blossom Moisturizer or ART Light Moisturizer - Helps your skin retain and maintain proper hydration.
Evening Routine: Repeat morning routine - super simple!
Orange Blossom Face Wash
ART Toner
Renewal Serum
Orange Blossom Moisturizer or ART Light Moisturizer
Two times a week:
Exfoliate with Satin Facial Scrub, Mint - Gently lifts and removes dead skin cells to reveal bright and even-looking skin.


I LOVE using essential oils in my skincare routine. They are the perfect pair to add with your moisturizer and one drop will be plenty.
Here are a few helpful essential oil ideas:
Cedarwood - Cleansing and moisturizing. A drop on your scalp is wonderful too for healthy-looking hair.
Roman Chamomile - Very calming and gentle on the skin.
Geranium - Helps promote radiant-looking skin.
Lavender - A great beginner oil for your skincare routine.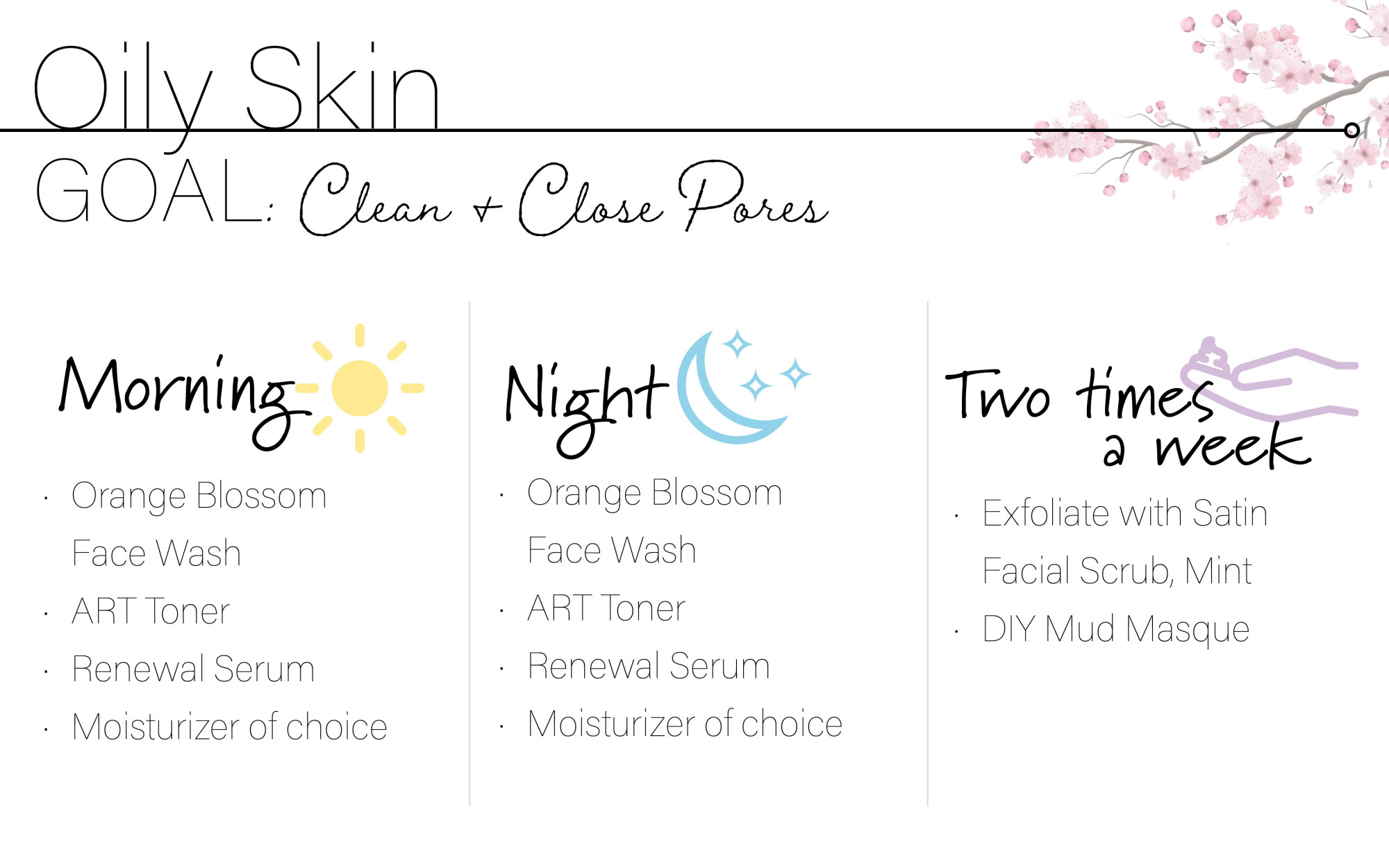 If you missed Part 1 of our series, you can find that HERE. Tips for Normal Skin-Types can be found HERE. Have questions about what skin type you are? Message me HERE or Comment on this Blog Post and I'll reach out with a couple quick tips!

If you enjoy all things Skincare and Makeup, feel free to check out my FREE Guide on 5 Ways to Natural Care for Your Skin. Enjoy!