Dec 7, 2020 07:48 PM Central
Jenna Herrig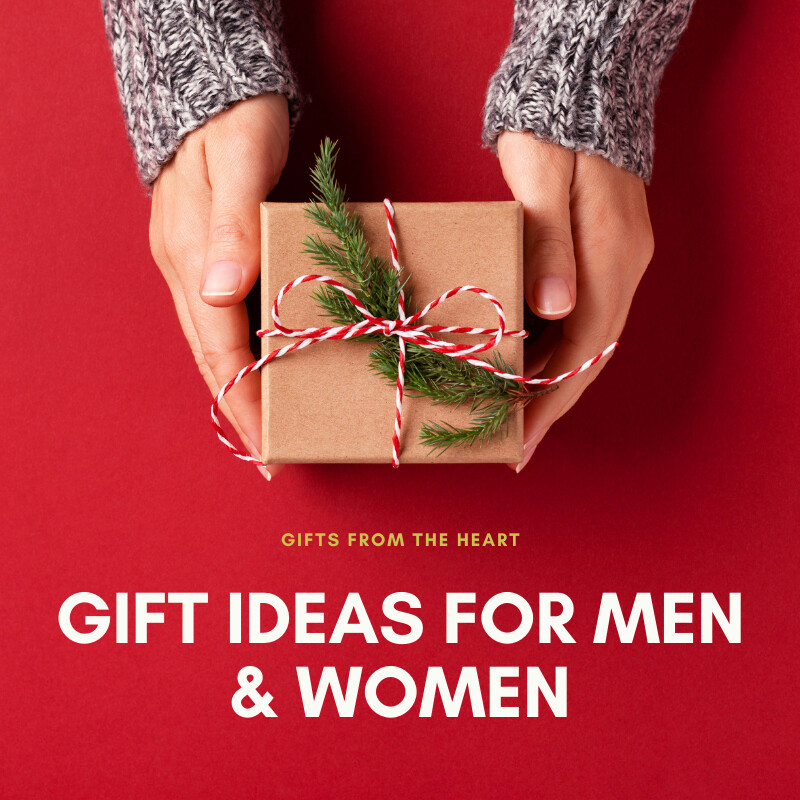 December is here and I can already tell it is going to zoom by! This is the season where we tend to hustle and bustle, bake all the cookies, decorate our homes and shop for those special Christmas gifts for our loved ones.
I've really been focusing on being more mindful this Christmas season. I know 2020 has put us all in a funk, but this is the first Christmas in forever since I didn't really desire to decorate my home for the holidays. I have my tree up and a string of beautiful lights - but that is it. I'm choosing to give myself grace, to enjoy the twinkling lights, being cozy wrapped up in my favorite blanket and reading Christmas books. I'm sure I'll bake some yummy Christmas cookies yet!
If you are feeling a little frazzled this year and needing a few extra gift giving ideas, then you are in the right place. I've come up with two Christmas Gift Idea guides for you that'll spark some ideas on what to get your dear ones this year.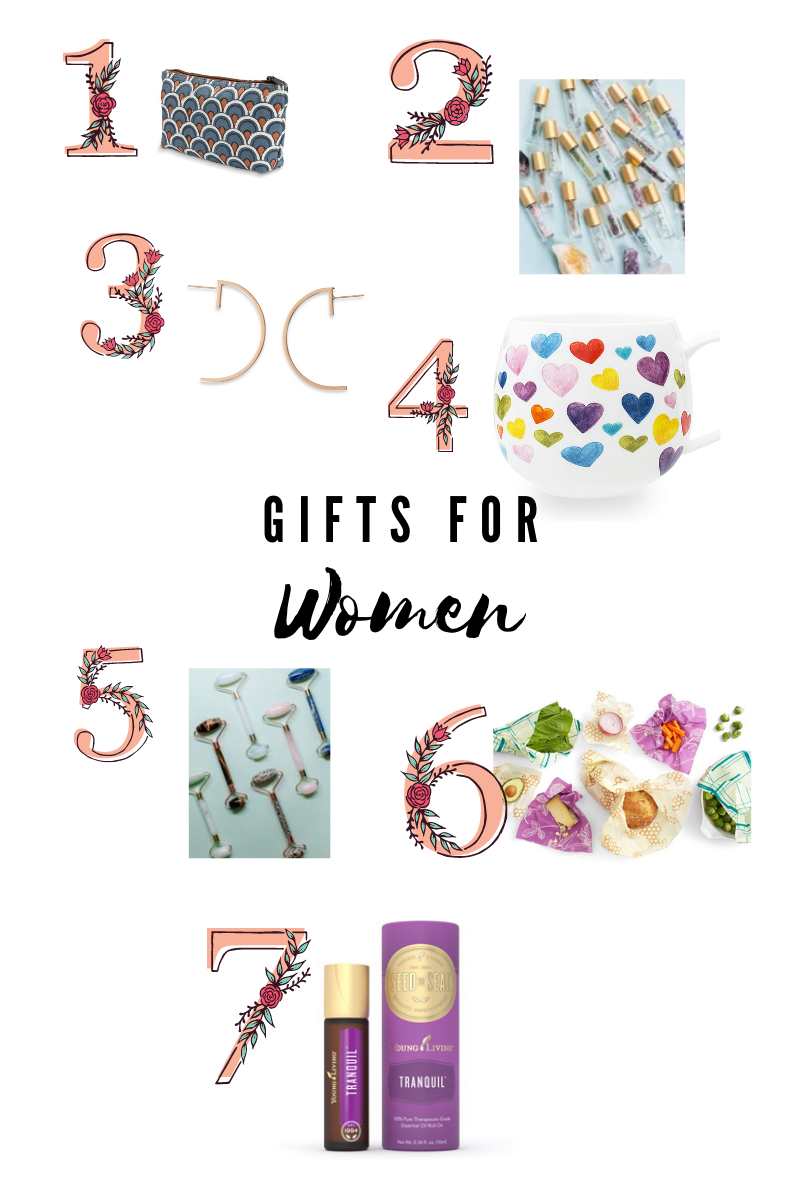 Gift Ideas for Women
:
1.
Makeup Pouch
- super cute to hold your cosmetics, sanitizer, and other accessories.
2.
Gemstone Glass Roller
- Love these for making my own essential oil blends. Perfect for on the go!
3.
Cici Earrings
- These are so simple and classy. Beautiful to wear at work, home or date night.
4.
Cute Coffee or Tea Mug
- Who doesn't love receiving a cute mug? They are so cheerful. Gift on its own or pair with some tea or coffee samples or a gift card to their favorite store.
5.
Gemstone Facial Roller
- The Rose or Jade are my two favorites. Facial rolling is an important part of your morning skincare routine. Wakes you up and leaves your skin feeling rejuvenated.
6. Bee's Wraps - These make great gifts! Perfect for wrapping up school, work or picnic lunches. You can also cover leftovers or bring on your road trips. They are reusable, easy to care for and friendly to our environment.
7.
Tranquil Essential Oil Roller
- Perfect for inviting calm into your life. This is a great roller for taking on the go with you. I have found it to help be relax and grounded during stressful times. It's also great to use before bedtime.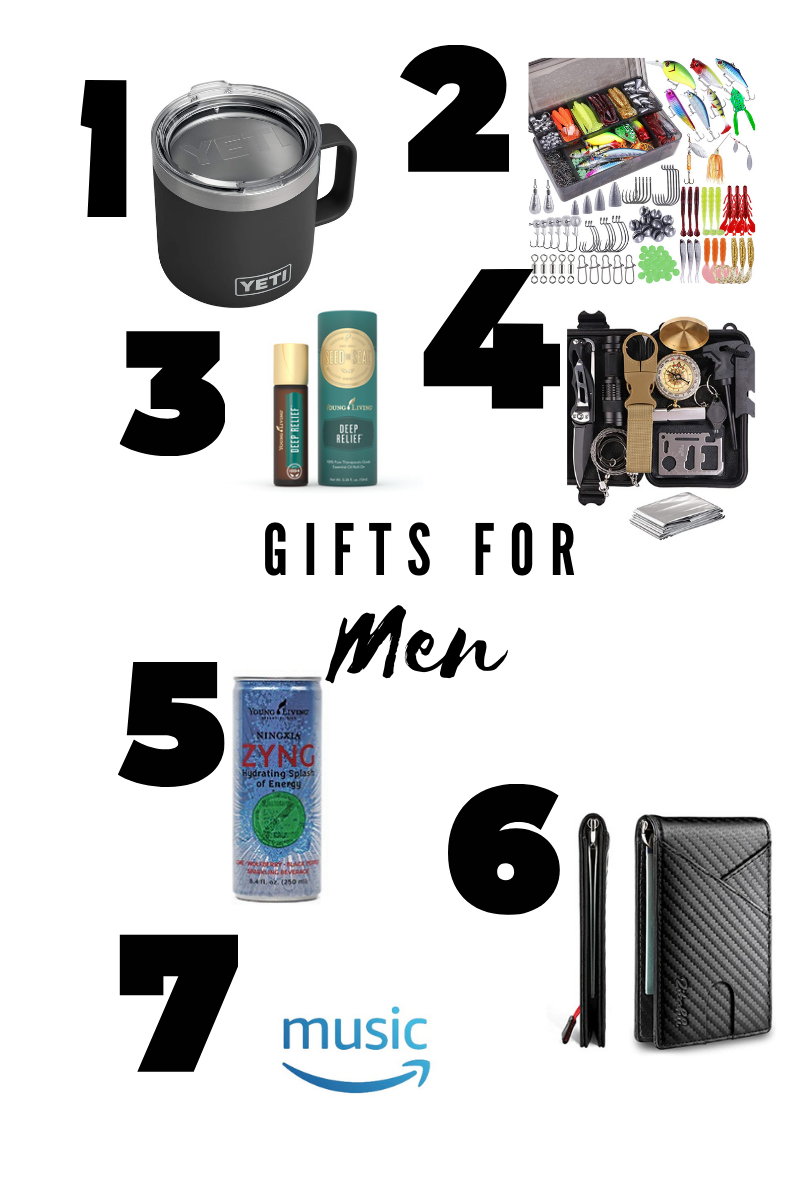 Gift Ideas for Men
:
1.
Yeti Mug
- We love our yeti mugs and water bottles. They keep the cool drinks cold and the warm drinks hot.
2.
Fishing Lures
- You can find these at any outdoor store and any guy who enjoys fishing will love them. Clinton has so many but he's always so happy to receive more as Christmas or birthday gifts.
3.
Deep Relief Roller
- An essential oil on the go, which makes it great for guys. Roll on any achy spots and the best part is there is a roller on top so he doesn't have to worry about getting oils on his hands.
4.
Survival Gear Kit
- Great for the guy who enjoys camping, hiking or hunting. Clinton and my dad both have one and they both said it was one of the best gifts they received last year for Christmas.
5.
Zyng
- A hydrating splash of essential-oil amazingness! This is different than your typical store-bought energy drinks. Zyng is made up of only natural ingredients that won't give you a nasty sugar/energy crash. It'll leaving you feeling great and give you a consistent boost to help your guy accomplish those honey-do tasks!
6.
Slim RFID Wallet
- Great wallet for everyday use, as well as when traveling. Keeps cards and bills safe.
7.
Unlimited Music from Amazon
- For the guy who loves music! Great app for ad-free music to listen to when in your car, working out, hitting the trails or just spending time at home. Currently, you can get the first 3 months for free.
If you are looking for more Holiday Cheer and encouragement feel free to join my free group
Authentic & Radiant Women Living Their Best Life
. We've been chatting on how to create a healthy and peaceful home for the holiday season. We'd love to have you hop in and see if it's a good fit for you. And if not, no worries! Have a blessed Christmas!